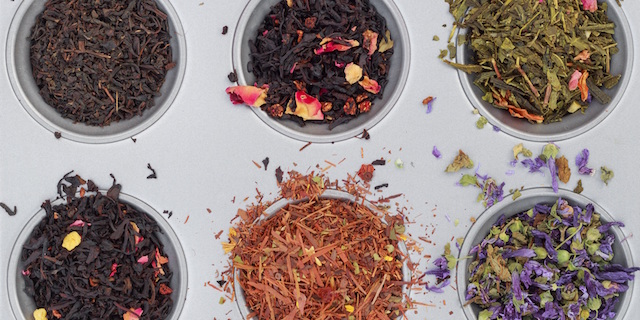 Last year I created a #drinkwhatyouown challenge for myself but quickly came to realize many other tea drinkers could relate to the inspiration behind it. How to drink more tea may seem like an odd guide, but there's a solid reasoning for it. As an avid tea drinker and blogger I find myself up to my neck in teas because of my own purchases and free samples. I know, I know… having "too much tea" is a good problem. But, now with my new role I am drowning in even more tea. I have given a lot away, but I still have enough to last me years. So, I made the decision to put myself on a tea buying ban and focus more on drinking what I own.
It's tricky because every season I am wanting fresh, new teas. It's also tricky because even though I am successfully sticking with the teas I own (aside from some samples for work still) there just doesn't seem like enough time to get through all of the teas in my stash.
If you can relate, I encourage you to join my #drinkwhatyouown challenge on Instagram. Simply add the hashtag to any photo you share of teas that you are drinking from previous purchases. My good blogger friend Connie of Tea in Spoons joined the challenge earlier this year and we try to keep one another in line. There are some days she sends me screenshots of tea sales that are too good to pass up and I have to remind her she already has too much

If you'd like to challenge yourself to drink what you own, here are some tricks I have been using lately that have been helping me get through my tea stash a bit quicker. Even if you don't think you need to be on a tea buying ban, these tips should still help you so you don't end up buying more than you drink (like me!).
10 Simple Tricks to Drink More Tea
Think of it as a cleanse for your tea cabinet. You can do it! I believe in you

1. Always have tea with you.
There are moments you wish you had tea from home instead of a generic tea bag from airports, hotels, the office, etc. There are also moments you wish you just had tea in general. This can be solved by traveling with tea from home. If you add a few teas and a steeping device to your bag, you'll always have the opportunity for a great cup of tea by your side and you will be using tea from your own stash! So, you don't have to worry about purchasing more tea for a quick fix.
2. Make tea first thing in the morning.
Start your day off right by heading to the kettle and finding the perfect morning steep. The morning sets the tone for the rest of your day. So, if you start it with a tea moment, chances are more will be waiting for you in the afternoon and evening.
3. Drink teas that only have a few teaspoons left first.
This trick has helped me the most. If you're like me then you probably have a lot of teas in your collection that only have a few teaspoons left in them. If a tea is really good, it's sometimes hard to say goodbye. Making them a priority though really helps. By drinking teas that are almost empty first I was able to clear out teas a bit quicker. When I finish a tea and get to trash or recycle the package/tin, it motivates me as I feel like I'm moving along and succeeding. It's kind of like tricking the mind. I know I really only had a teaspoon of that tea, but I was able to finish it up and make space in my tea stash and that encourages me to continue the challenge.
4. If you don't like it, don't drink it.
I have wasted too much time on teas I don't really like, but force myself to drink so I don't waste it. If you're drinking a tea and you consistently don't like it, just stop and move on to those that you do like. I used to set it aside and think I might like it again in a few months, but now I've gifted that tea to friends or family members that like it more and just make note to purchase a sample size of that tea in the future (when I'm not on a buying ban, of course!) to try again.
Okay, so this is not exactly "drinking" but this follows the trick right above. If you don't like a tea, you can find a different way to consume it. Cooking with tea allows the tea to compliment other flavours. Since you won't be experiencing just the tea flavour, you may like the tea better if it's blended with something else!
If you're making a pitcher of iced tea or cold brew tea, then you'll get through some teas quicker since you have to use larger amounts of leaves. I really like this option for teas that I don't necessarily love hot, but can still be great if iced!
7. Make more time for yourself and take those tea breaks. Seriously!
I believe everyone needs to make more time for tea. Not only to get through their teas at home, but just because it's good for the soul. Every time I write to-do lists I include "drink tea" so I can seriously take the 5 minutes away from my desk to prepare a cup or pot. Those few minutes make a difference in my day and it helps me finish up teas quicker. Win, win!
8. Create a tea space. Display your tea and tea ware.
A space devoted to tea and your tea related things can make it easier to stop for tea often. I've mentioned this tidbit in my tea book. When you have everything you need to make tea easily accessible, you're more inclined to do so. You may not drink tea often if you had to pull everything out every time you wanted a cup.
9. Share what you're drinking with friends & family.
Tea is meant to be shared, so do so with family and friends! Whether you are sharing a cup of tea with them, or sending them some tea from your stash, have more tea moments with those you love. You can also simply share with others about teas you are drinking online (blogs, social media, etc.). Having a connection like that can inspire you to continue going through your teas and making it more fun.
10. Join a tea challenge!
If you're trying to #drinkwhatyouown then share your steeps on Instagram with the hashtag so I can see. All participants can keep one another accountable

We can all drink more tea together!
Need to drink more tea? Pin this post for later here –> http://bit.ly/2m1qHsW
Do you have any tricks or tips for how to drink more tea? Let me know in the comments!
The post How to Drink More Tea: 10 Simple Tricks I Use For My #DrinkWhatYouOwn Challenge appeared first on The Cup of Life.